Sophia Grace was welcomed into the world Tuesday October 25, 2011 at 3:38pm. Weighing in at 8lbs 4oz making her the biggest of the sisters at birth. Her mama Nicole and I have been friends for years. Nicole wanted to wait to send out the mass announcement that Miss Sophia had arrived until her sisters got to the hospital. Nicole and John don't find out the sex of their babies until they are born. So the sisters had to wait until they came to the hospital to find out if their new baby was a boy or a girl. So the girls were set to arrive at 6:30. I received a text from Nicole at 4:00 to let me know that the baby had arrived, but she waited until I got to the hospital to have me guess. I have to say I was over the moon to see that they added yet another amazing beautiful girl to this world. Sophia is the youngest of 5 girls. She has 4 big sisters that adore her. Seriously a baby can't get any luckier than that. Â 
A few minutes after I arrived the sisters showed up. To say they were excited for another sister was an understatement. Anna has wanted a brother for so long. She looked at me in this picture and said "Oh Kate, I wanted a brother the whole time, but I am so glad I got another sister. She is so sweet." Yes Anna she is so sweet and she is a lucky little baby to be surrounded by such love.
Sophia was held by her older sisters multiple times. Her sister Ella who just turned 17 months yesterday was more interested in being held herself by her mama.
Grace Kathryn & Sophia Grace
Anna Louise & Sophia Grace
Kathryn Mary & Sophia Grace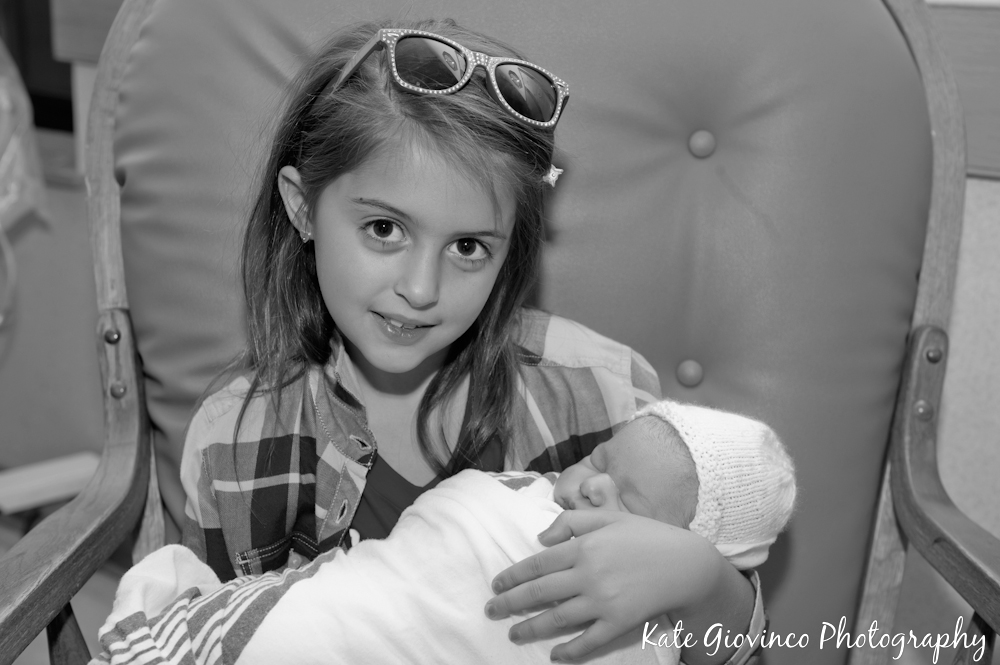 Ella got to be held by her mama. Yes she just had a baby and yes she looks this fabulous all the time. These girls are just as gorgeous as their mama. 
All 5 girls together for the first time.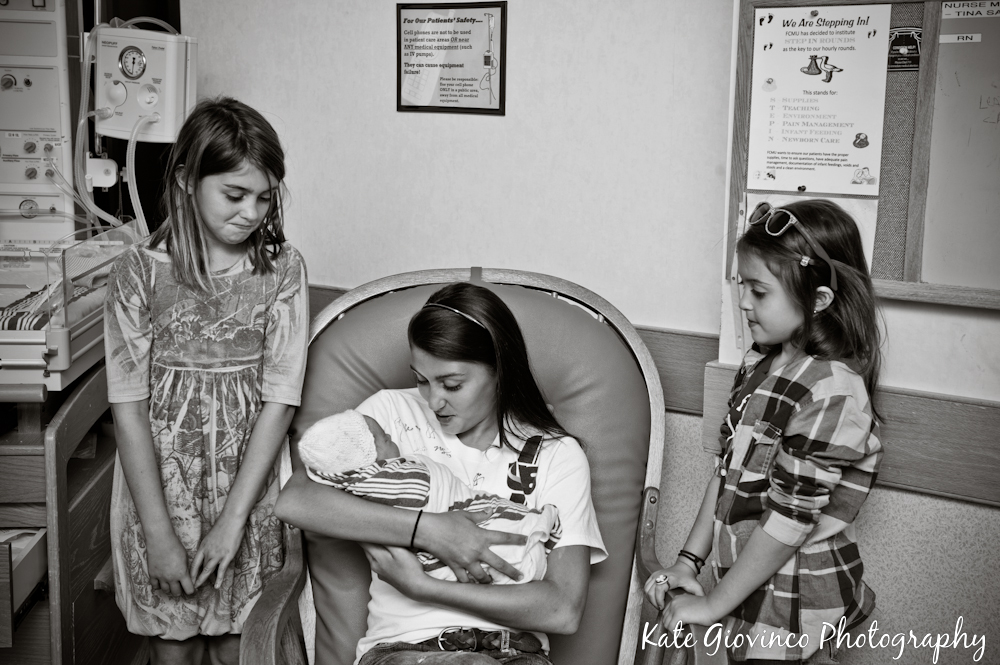 This is Gama. She is John's mom and we all love her to bits. Gama has 7 kids and 18 grandkids. I said when I have a baby I want Gama to be there with me. She is the best coach and such a great woman. After I said it Kathryn didn't skip a beat and said "You are having a baby?" I said no not right now but when I do I want Gama to be there. Gama is the best.
After the sisters left and Mama was busy we got some time to grab a few pictures. I used flash when the big girls were there but I didn't want to use the flash when shooting directly at the baby. I also don't love flash so I prefer to turn up my ISO and shoot with the available light in the room. That being said the lighting in the hospital room was awful. For all you photography people out there my ISO was turned up t0 8000. I had to move the baby around to catch some light. There was one small light above the bed. I am still glad I was able to get some pictures.
Oh the cheeks and lips. She is going to have killer eyelashes just like her mama and sisters. You could see her eyelashes peeking through when she opened her eyes. 
She already found her fingers. I mean seriously there really isn't anything cuter than a newborn sucking on their fingers.
Nicole and John congrats on Miss Sophia. She is amazing and I can't wait to watch her grow. Thank you for allowing me to be such a big part of the girls' life. I feel completely blessed to be surrounded by such an amazing family. I love you guys and can't wait to see the dynamic Miss Sophia adds to your home.
I will add more to the Facebook page as I get through them. We also have Sophia's newborn photo shoot so be sure to check back.