Ella turned one a few weeks ago back in MAY! Yes you read that right MAY and I figure since I am going to do their beach portraits tomorrow I really need to get her birthday photos on the blog.
I was lucky enough to get to photograph her on her first birthday. The first photographs I ever got of Ella were when I visited her at the hospital. We did her newborn pictures less than two weeks later, I took some pictures of Ella and her sisters at Christmas and then for her first birthday. I love watching little ones grow. Ella will have a new little sibling in the Fall as well. I am looking forward to capturing her him(?) as well.
I got the idea for the balloon border from Design Mom. She did this for June's first birthday. As soon as I saw it I knew I wanted to do it for Ella's birthday shoot. Once Gabi posted the tutorial I knew there was no way I wouldn't do it. So that is what I did. I blew up all the balloons, strung them together, and then stuffed them in my car to get them to Miss Ella's house.
Ella with her sisters and their beautiful mama. Yes she is their mother. She is pregnant with Baby #5 and looks amazing. I can't wait to meet the newest family member.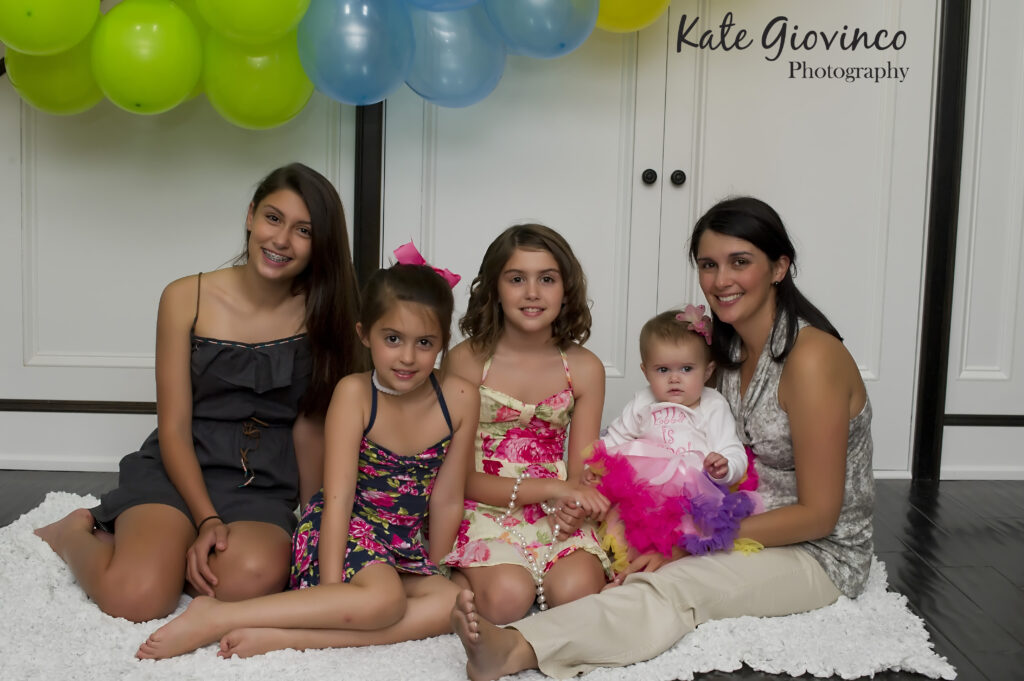 The house is amazing and they have so many beautiful walls. The walls in their kitchen are covered with inspirational quotes and a black board on the wall. Ella's sister Anna wrote the beautiful message on the chalkboard wall behind Miss Ella. 
The G girls get to have cake for the first time on their big day. Lucky me that I got to photograph Ella on her first birthday and was able to stay for cake.
Then the birthday girl moved to the floor so she could really have a go at her cake.
Ella with her oldest sister Grace.
After cake I gave Miss Ella a tubbie in the sink. She loved it. She loved the cup and the water coming from the faucet. She played in the tubbie aka the sink for a good 20 minutes.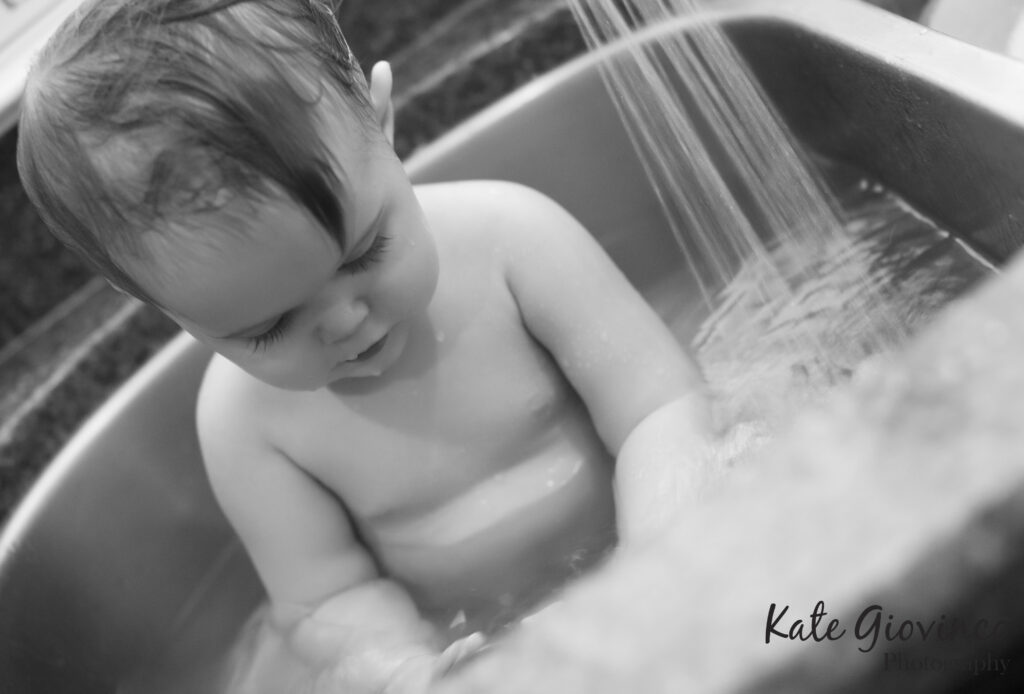 After her tubbie she got to open some gifts. She loves Mickey Mouse and this guy was a hit.
And because every single baby I know loves the iPhone, I had to get one of Miss Ella playing.
I used the same rattle in her newborn shoot. I was hoping to doing a comparison but Ella had other ideas.
Ella you bring so much joy to everyone who knows you. I am so lucky to be a part of your life. I can't wait to see you tomorrow night. Lots of love, Auntie Kate