Today as I celebrated my 32nd birthday I decided that I would love to offer 32 random acts of kindness.* I am so ridiculously blessed. I have an amazing family and amazing friends. I get to do what I love for a living and most of all I am blessed to be healthy. So today being that I am 32 I decided to take $320* and use that to do 32 random acts of kindness. Some were planned but some were spontaneous. Some were free and some cost money, but every single one I enjoyed doing. I shocked a few people, others cried and right along with them I cried.
My mom joined me for the morning and the afternoon I headed out on my own. I did plan my route to ensure I was able to deliver to everyone. I did not take pictures of every act or person. I took some to document, but mostly wanted to embrace the day as it unfolded without my camera in front of my face.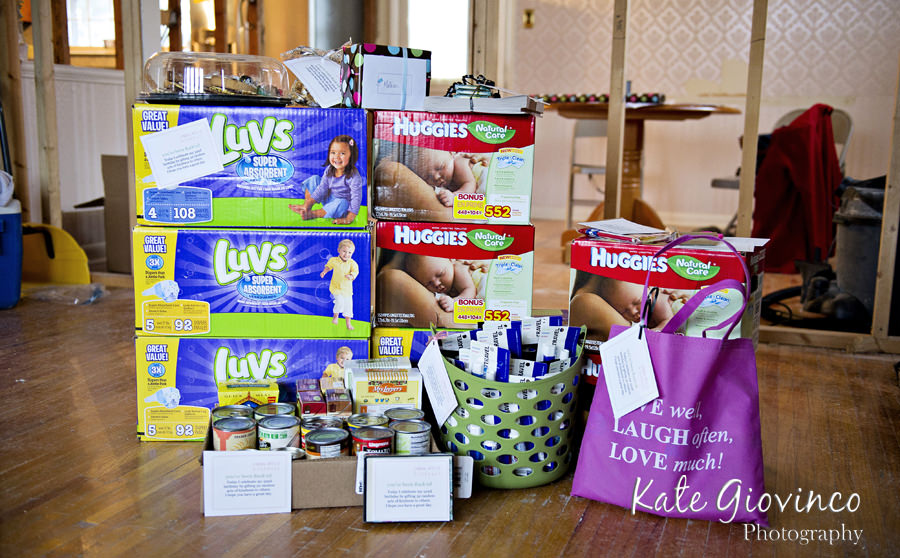 Made breakfast for John
Called my mom to tell her I love her and thank her for being such an amazing inspiration before she arrived.
Left homemade cookies and candies for the contractor helping us with our renovation.
Donated diapers and wipes to local diaper bank Mitzvah Circle Foundation in Blue Bell. I will share more about this amazing organization in a few days.
Donated food to a local foundation that helps families who fall through the cracks.
Dropped off 32 socks, 32 toothbrushes, and 32 tubes of toothpaste at Coordinated Homeless Outreach Center (CHOC) which is a local homeless day shelter.
Wrote a "Thank You" note to the Jeffersonville Fire Department and dropped off some cookies. They were heading out on a fire call when I arrived so I didn't get to thank them personally for all they do. 
Wrote a letter to the mailman with some hot cocoa and a box of cookies.
Wrote another letter to our regular mailman with homemade biscotti and a bag of coffee. Which he will get tomorrow since he was off today.
Left $10 taped to the Gas Pump.
Paid for the car behind me at the Sonic!
Purchased Books for the Get Well Gabby Foundation.
Gave a woman a roll of quarters at the laundromat.
Bought the person behind me a Walmart Gift Card to pay for their order.
Left coloring books and crayons in the local hospital maternity waiting room.
Left a dollar bill on vending machine in hospital for someone to get a snack.
Put a box of Joe from Dunkin Donuts in the ICU waiting room. I was there a few weeks ago as my best friend's mother passed away. Just a small gesture for people in a really scary place. 
Bouquet of flowers at nurses' station for someone who needs it most. I asked them to give them to someone they thought would need it today. 
Bag full of water for nurse's at the hospital.
Returned all shopping carts in parking lot to the store.
Hid dollars in the kid's toy section at dollar store with a note.

Mailed the VA beach crew $20.00 for each person in the house to buy a box of Girl scout cookies from my niece Noor.

Opened doors everywhere I went with a big smile.
Slipped paper hearts that say "Today I celebrate my 32nd birthday by gifting 32 random acts of kindness to others! Have a great day!" under the windshield wipers of parked cars.
Left a lottery ticket on a shopping cart at the grocery store.
Left free red box rental ticket and popcorn at a Redbox.
Put together a writing kit with stationery, envelopes and stamps, pen and will give to nursing home.
Visited the cemetary where my dad, brother, aunt and baby cousin are burried. Cleaned up trash around graves.
Brought my neighbors trash and recycling up their driveway.
Liked Philabundance on Facebook. From February 5th until the 15th for every like they receive Subaru will be donating a jar of Peanut Butter or Jelly to local food banks. All you have to do is "LIKE" their Facebook page. 

Left quarters in a soda machine for someone to get a drink on me. 

The last random act of kindness is for all of you. I decided to give away $175 in gift cards to some of my favorite places. Â Â Â 
You will have five chances to win.
Entry 1:  Leave a comment on this blog post telling me what you would do as a random act of kindness towards others. 

Entry 2: Please head over and like our Facebook Page. Come back and leave a comment that you did. If you are already a fan just leave a comment letting me know. 

Entry 3: Post on your FB page about this contest by sharing this post. Once you have done that come back and leave a comment telling me so. 

Entry 4: Head on over to Twitter and follow us there. Then come on back and leave a comment telling me you did. 

Entry 5: Tweet about our contest. Come back and comment leaving a link to your tweet letting me know.
The contest will run for one week and will end on Tuesday, February 12th at 11:59 pm. I will then use random.org to choose a winner. The contest is open to anyone in the United States of America. You have 24 hours to claim your prize before I will draw another name. Best of luck.
Today was amazing and beyond humbling. Words will never be able to express how truly blessed I am, but I hope these small tokens of kindness brought a smile to everyones face I encountered. Tonight I ended it having dinner in my new home with my cousin and her crew, my mom, my sister in law and of course the most amazing guy I know. The amazing guy who works ridiculously hard to make sure that the house we are living in can truly be our home. It was truly the best birthday yet. I can't wait to see what future birthdays hold as this one will be a hard one to top.
*I had found out about Random Acts of Kindness on your birthday through the Birthday Project a few years ago. I have been wanting to do it and on the 4th I woke up making the decision that this year would be the year. I had less 24 hours to plan this all out and make it happen. Next year I plan to be more prepared.
*printable cards were downloaded from the web and I am not sure where. I will link as soon as I find them again.
*I set out to spend about $320 for my 32nd birthday, but ended up spending more. And it was worth every penny.
The winner is comment number 49: Elaine! Please contact me within 24 hours so I can mail your prize.
Thank you to everyone who entered.